Email marketing for the healthcare industry is very underrated. In today's digitally dominated world, the commercial opportunity for healthcare email marketers is real and better than in previous decades. As many American consumers, as well as healthcare professionals, are digitally linked and personally addressable via email, it makes email marketing the top-of-the-list alternative for healthcare providers. However, to connect with those people, you will need a healthcare contact database which will help in running your email marketing campaign effectively.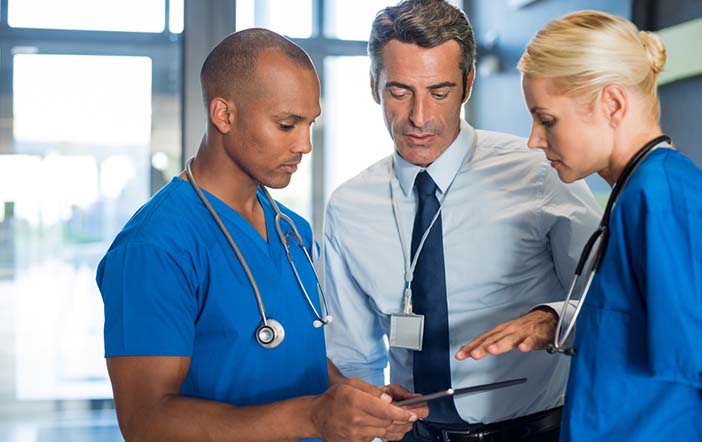 Moreover, email has been shown to be highly valuable for medical practitioners. According to a survey, the average open rate for healthcare emails is 21.59 percent, with a whopping 3.31 percent click-through rate. It is one of the best campaign results across all segments.
What Makes Healthcare Email Marketing Essential For Your Practice?
Email communication is a trustworthy tool for any healthcare marketing strategy. It provides not only a wide opportunity for brands to communicate seamlessly with their consumers and prospects but also helps in acquiring new patients, onboarding and maintaining them, as well as creating trust. Furthermore, the low cost and very high return rate have assisted healthcare providers in humanizing their medical practice as trusted partners.
Moreover, the rate of healthcare providers who do not employ email marketing in their practice is very high. While health practitioners must ensure HIPAA compliance, there is no reason not to employ email marketing as part of your healthcare marketing practice. In reality, by failing to use email marketing to engage with patients, practitioners could lose out on engagement with the patients.
Furthermore, email is a highly effective marketing channel if imbued with a healthcare professional email lists. The medical email lists provide you the authority to tailor your message to your intended audience. Delivering the facts and information that your audience requires will result in a positive connection. You can also send customized emails with medical email addressesdepending on their interests, health status, and other factors.
Healthcare professionals may require email marketing for –
Maintaining Engagements
Providing a forum for them to address their health problems
Making Frequent appointment reminders
Communicate with patients
5 Important Reasons Why Health Care Organizations Should Use Email Marketing
Your patients and clients rely on you to provide them with information. They're entrusting you with their lives, and providing information via email marketing is a wiser method to ensure you don't let them down.
There are numerous benefits of using email marketing; however, let us look at the most notable ones-
1) Personalization
According to studies, personalizing your emails results in a 27% increase in click rates and an 11% increase in open rates when compared to non-personalized emails. When clients open an email, everyone enjoys seeing their own names. Personalizing email marketing messages and tailoring them to particular clients is way more convenient if aligned with the health care email list. When patients feel personally addressed by your organization, it can increase patient loyalty, which is especially important when dealing with delicate issues. Customized communication in the healthcare business can aid in the maintenance of connections and is an excellent approach to demonstrate your productsto your clients.
2) Segmentation
Segmentation using a healthcare contact database allows you to separate your subscribers into smaller groups based on a set of attributes, allowing you to deliver more targeted emails.
Healthcare email listscan be readily segmented so that specific messages are delivered to certain audiences. With the help of a healthcare mailing list, messages can be distributed to specific groups based on their needs. This kind of communication enables health care providers to communicate relevant information to the appropriate clients. Furthermore, because medical listscontacts are all opt-in to receive marketing emails from your medical practice, you'll only be contacting individuals who are genuinely interested in the information you're offering.
3) Automation
When compared to direct mail, email marketing makes it easier than ever to convey messages on time. By automating the date and time of the emails, your email marketing campaigns can be sent out weeks in advance. Whether you want to organize event reminders or even fundraising, automated emails make it a one-and-done business. However, you will have to build a soliduniversal health services email address list to avail such benefits.
4) Highly Cost-effective
Email marketing is an excellent cost-effective communication technique accessible right now. When you use email marketing, you may try to create relationships with your patients at a lower cost than ever before. Moreover, With the aid of a medical email addresses list, email can offer up to 42$ returns on every 1$ investment.
5) Allows for Quick Communication
Another most appealingbenefit of email marketing is that it is a rapid and simple messaging approach that allows for quick communication between health care providers and their clients. With new innovations, healthcare laws, medical news, and scientific discoveries, the healthcare business is always expanding. Being able to rapidly and efficiently send out information in reaction to these events via email marketing can make your clients think of your health care business as the go-to source for the most recent advances in an ever-changing field.
Best Practices For Healthcare Professionals To Engage In Email Marketing
An outstanding healthcare email template will engage your patients, but it isn't enough to conduct successful healthcare email marketing. To make your healthcare email marketing successful, you'll need solid strategies as well as a healthcare mailing list.
Here are some points to consider while conducting healthcare email marketing campaigns.
1) Define your demography
To get the most out of your email marketing, you must first define your target demographic. Otherwise, you may end up in a spam folder by sending irrelevant messages. For example, Sending baby care emails to someone who doesn't have a baby will not benefit them in any way. Similarly, delivering educational materials about blood sugar control to young patients will cause them to unsubscribe from your email list. Therefore, it is crucial to have a healthcare emails list tounderstand the demography.

2) Engaging Subject Line
Consumers, and occasionally computers, make an instant decision to read or mark an email as spam. A catchy subject line increases the likelihood that an email will be opened. Including a call-to-action phrase like "still time," "hurry," or "get it now" can entice your clients to open your email. Furthermore, don't be afraid to get to the point quickly by employing important terms like "welcome" or "congratulations." Clients are reluctant to open an email if they do not know what it is about. This is where building an authentic fierce healthcare email list becomes crucial because healthcare email lists can minimize the risk of getting marked as spam.
3) Clear Instructions
Email marketing for doctors works best when it is well-structured and concise. Make sure the reader understands what you want them to do so that your call-to-action is effective and you receive the desired outcomes. If you are sending a process-oriented communication, clearly outline the actions required to reach the target destination. Making things as simple as possible for your customers yields the best results.
4) Create a Responsive Email Design
Opening emails through mobile phonesis increasing all the time. Several marketing statistics on mobile phone users have already shown that mobile phone users account for at least half of all email opens. This figure illustrates that patients and physicians commonly use healthcare services on mobile devices.
As a result, it is critical to improve your current email marketing approach for mobile devices in order to reach more individuals on the go. You must guarantee that the email is responsive and that the information can be viewed on devices with varying devices.
5) Build an Effective Healthcare B2B Contact List
When it comes to healthcare marketing, traditional email list-building strategies do not always work. Most healthcare providers lack the time and money to generate inbound content that will attract new patients. Furthermore, the primary purpose of your website and advertising initiatives is to attract and book new appointments and not to grow a healthcare mailing lists.
Having said that, not everyone is ready to book an appointment while investigating you. People enjoy researching their alternatives to determine which deal is the greatest fit for them. Invite these people to join your medical email list to learn more about your practice and remain in touch.
Wrap UP
Healthcare email marketing assists professionals in the best way possible, from increasing patient appointments to developing new contacts. One can reach and provide value to their audience without investing a lot of money or effort. The beauty of an accurate medical emails list is that it makes your email marketing strategies way more effective and significant. The most important feature of a List of healthcare professionals is segmentation and personalized messaging. You can segment your healthcare emails database by the needs of your marketing strategy. For example, if your marketing strategy requires you to approach physicians, then you can segment your list by physician email lists. Same with the pharmacist email list, and conduct personalized campaigns.
On a final thought, If you haven't incorporated these tactics into your marketing planto improve your healthcare services, then do it ASAPand grow your marketing practice.