You must commit your time, energy, and perhaps your money to connect with your patients. However, the return on investment for these things has the potential to be exponential, which might result in a remarkable expansion of your brand and reputation. Reward your patients for their loyalty and publicly praise them for their assistance in expanding your business, and you should start to see the results of your efforts soon. Everybody respects your hospital in every way. Even if the status quo is well-liked, a hospital should never prioritize maintaining it. There's constantly room for development. Failure to prioritize improvement breeds complacency, bringing rivals hot on your heels. Here are seven methods for bringing in new patients to help your excellent hospital improve.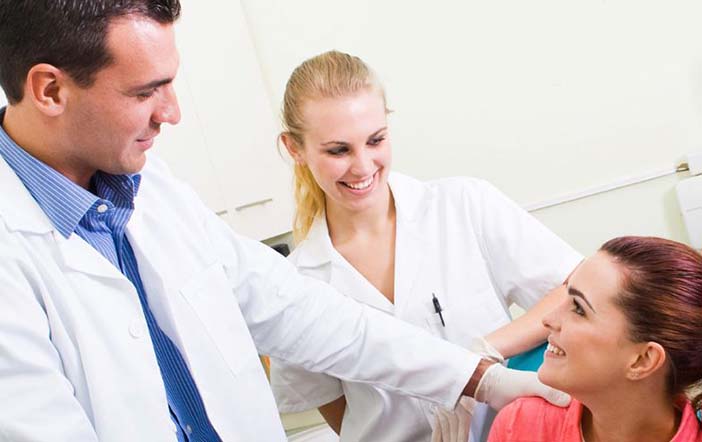 Your medical office, clinic, or hospital must draw new patients if it is to expand, just like any other business. But patients now have more choices than ever before for their medical care. Health systems must invest in sophisticated acquisition-focused healthcare marketing strategies to stand out from the crowd. This article should be read by owners of medical practices trying to attract new patients online.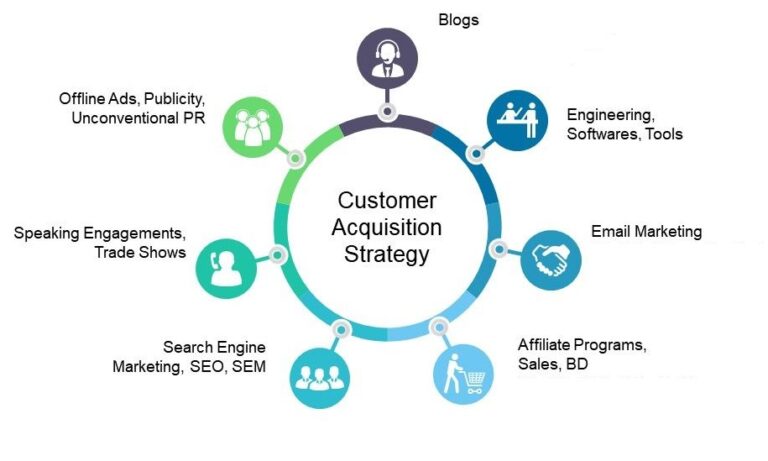 Source: Wiio
When you started your medical business, you likely thought you'd have a patient base to cater to. It's possible that now that you're managing a practice, you realize it's not that easy. Finding new patients can be difficult. We'll examine cutting-edge patient recruitment techniques to help you meet the challenge and attract additional patients, focusing on digital methods. Let's examine what makes patient acquisition marketing special before looking at a few top techniques to attract new patients.
The article will focus on these aspects-
What is the significance of patient acquisition?
Enhance Your Email Marketing Skills
7 techniques to increase patient acquisition
What is the significance of patient acquisition?
Many practices use a typical fee-for-service reimbursement model. With this strategy, your practice's revenue grows as you see more patients. If most of your patients are healthy, this arrangement poses a substantial challenge: How often are your patients able to schedule appointments? Not very frequently, which is bad for your revenue. Getting new patients can be beneficial.
You can schedule more appointments as more patients come into your office. You can make more money if you schedule more appointments. When you can book appointments from a larger patient base rather than the same core group, it is simpler to make a profit. A patient acquisition marketing strategy aims to persuade potential patients to visit your hospital or clinic the next time they require medical attention. The secret to a successful acquisition campaign is to showcase your medical practice's strengths and use those to create a compelling picture of what a prospective patient would encounter.
The goal of a patient acquisition plan should be to attract new clients. This is not the same as patient Retention, which aims to keep patients returning.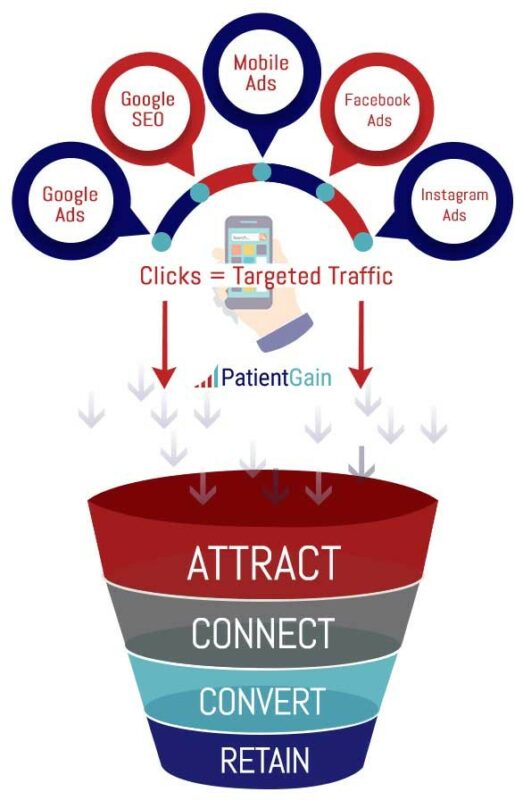 Source: Wellbe
Enhance Your Email Marketing Skills
More than 90% of US adults prefer a doctor's office that offers email communications, making email marketing for healthcare one of the top options available today. Email marketing is a powerful tool for spreading the word about your medical practice and informing patients about your services and goods. It enables you to maintain a digital connection with your patients and makes it easier to share content with them whenever it is practical. Since it may be tailored to each patient, it promotes loyalty and trust in your office. As a result, you may strengthen your relationships with current and new patients via email marketing, which has become an essential tool for professionals in the business.
7 techniques to increase patient acquisition
The following approaches for attracting new patients—some or all—might be successful: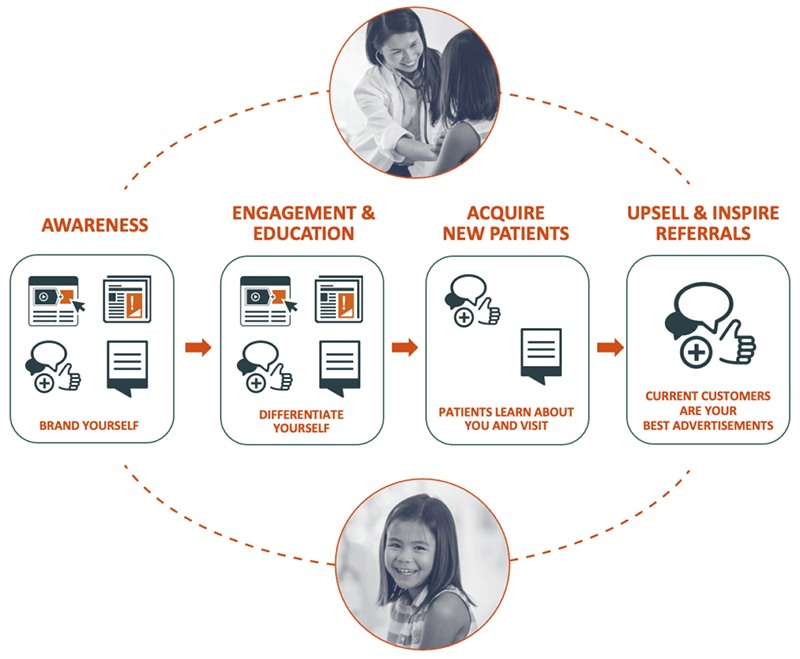 Source: Alabamamediagroup
1. Use the segmentation technique
Reaching the widest possible audience is made possible by psychographic market segmentation. Limiting your audience to a few typical demographics—gender, age, and health considerations—is insufficient. Create your acquisition marketing campaigns to tap into a potential patient's inner drives, objectives, and convictions. Help them understand how you might help them achieve their goals for happiness, freedom, independence, and other overt or covert priorities in life.
2. Offer health education materials
While there is a strong case against self-diagnosis based on internet research by a layperson, the reality is that many people are curious about their health. Provide educational content as a part of your acquisition strategy to establish yourself as a reliable information source. Instead of turning to the internet for medical information, which can leave people frightened and with nowhere to turn for a solution, people should acquire their information from a source that can provide solutions.
3. Utilize Omnichannel Marketing to Engage Consumers
An integrated, comprehensive customer or patient experience is produced through omnichannel marketing, seamlessly combining branding with synchronized online and offline messages. As each touchpoint is integrated and intended to nurture patients across channels, omnichannel marketing is different from a multichannel strategy, keep in mind. This ensures that patients receive relevant outreach regardless of their chosen marketing platforms.
4. Create SEO-friendly online content to attract new patients
Say you don't want to invest money in advertisements that reach prospective new patients. You can still take action to rank higher than rivals for free in internet searches. SEO and online content hold the key. Find out the common terms your target audience searches for first. Then, naturally, weave these terms into the text on your company website and social media pages. It's crucial to produce a consistent flow of site content into which you can incorporate relevant search terms. The articles on your practice's blog—most commercial websites ought to have one—are a great remedy. Your chances of outranking your rivals grow if you write about subjects related to your target audience and use applicable terms.
5. Acquisition And Retention must be balanced
Bringing in new patients through the front door is useless if they swiftly exit through the rear door. Make sure your acquisition approach isn't misleading patients or sending them to overburdened service lines if you find that your patient load is stable but not where you want it to be. To maximize ROI, be ready to divert resources from acquisition and toward Retention.
6. To draw in more patients, highlight your website's favorable reviews
Highlighting positive testimonials from your present patients is essential to attracting new ones, whether through paid internet advertisements or on your website. According to a Dimensional Research research sponsored by Zendesk, 90% of respondents base their choice of which businesses to utilize on customer ratings. As a company, your practice is subject to reviews just like any other. You immediately establish your credibility when you proudly publish positive internet reviews on the home page of your practice website. This is a fantastic strategy to attract new patients quickly.
7. Offer an incentive
Consider arranging a contest where participants can enter for a chance to win something of value to motivate patients to provide recommendations. You can have a quarterly lottery for a larger prize, such as a weekend getaway or tickets to a sporting event, or give a monthly drawing for movie passes or gift cards to popular local restaurants for each referral made. You decide on the drawing schedule, prize, and minimum required recommendations for a patient to be eligible to win. Additionally, be sure to include a notice in your patient newsletter!
Conclusion
The key obstacles to patient acquisition costs are marketing, assuring patient pleasure, and outpacing your competition. It is crucial to control your internet reputation because it can seriously affect your capacity to draw in new patients. Your internet reputation is frequently the first impression for many patients because over 72% of patients utilize online reviews as their first step when looking for a new doctor. This is another justification for wanting most of your evaluations to be favorable. Request online testimonials from your practice's devoted patients. Your presence will become more noticeable as you accumulate favorable ratings, giving you the advantage of dominating local searches.
These best practices assist you in raising awareness, piquing interest, outlining crucial points, and encouraging potential patients to take action. Any effective acquisition marketing strategy must have these as essential components. However, changing your patient acquisition strategy might be challenging, so it's not unusual for healthcare organizations and medical practices to collaborate with omnichannel marketing specialists. By doing this, they may easily acquire access to efficient healthcare marketing techniques, precise patient targeting tools, and even scaled-up patient acquisition that is guaranteed.