A medical practitioner's dream is to open a practice that no one knows about. Often, doctors believe that simply opening a medical office will bring patients to their door. Unfortunately, this is not the case. You need to promote about the fantastic patient services you're providing to ensure strong business. To do so, you'll need to market yourself both online and offline, including becoming listed in various online directories, developing an online presence, networking with other healthcare professionals, and so on. But how do you do that?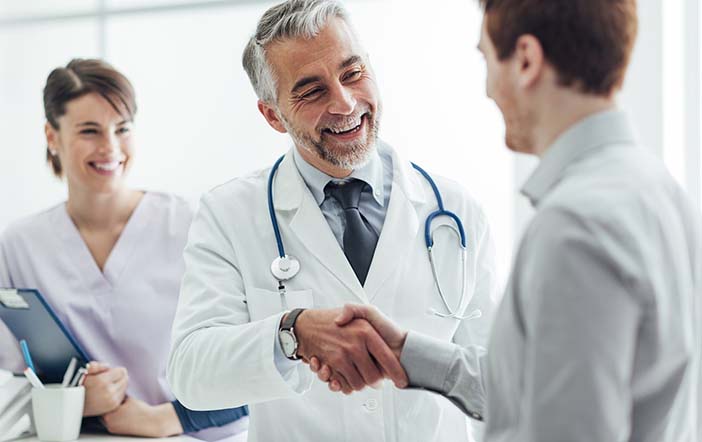 Physician marketing is an apt solution for promoting yourself in the healthcare market. Physician marketing practices include going out and exploring numerous channels and styles of communication that may prove beneficial for the overall marketing. However, creating creative medical marketing strategies for medical offices can be a difficult and often perplexing task. That is why it is suggested that you utilize an accurate Physician Email List. Navigating the strategies through a marketing plan might appear perilous, but with the help of physicians mailing list, you can get seemingly unlimited marketing and advertising channel possibilities.
Table Of Content -
Why Is Marketing Your Physician Practices Important?
10 Proven Strategies To Enhance Your Physician Marketing Endeavor
Wrap-Up
Why Is Marketing Your Physician Practices Important?
Physician marketing is a strategy for attracting new healthcare customers, shepherding them through their journey, and keeping them engaged with the system. To promote engagement and growth, the greatest physician marketing campaigns combine multichannel, highly segmented physician email address list and customized online and offline initiatives, all focused on market-specific key performance metrics and return on investment.
The importance of physician marketing can not be stated in a few words. However, to give you a hint of what physician marketing holds for you, let's look at the following points –
Greater Audience

Physician marketing can help you reach a larger audience and get more clients. One of the many advantages of marketing your physician practices both online and offline is the opportunity to communicate with a big audience. For a hassle-free marketing experience, utilize an Email List of Physicians to segment your audience and create a segmented list of physicians for each demographic.

Brand Exposure

One of the primary motivations for physicians to market their practices is to achieve public recognition. Offline marketing has the ability to raise brand exposure, but it is limited by its physical restrictions. If you would like to target a local audience, offline marketing is a fantastic strategy, but if you are required to reach a larger audience, digital marketing is the way to go. To operate digital advertising effectively, you must first develop an accurate physicians email addresses list.

Increases Conversion Rate

The goal of physician marketing is to convert potential consumers into paying customers, and there is hardly any way to do that better than digital marketing, particularly email marketing. Whereas other platforms' conversion rates hover around 0.5 percent, if you use a physician email database, you may expect a 3 percent conversion rate.
10 Proven Strategies To Enhance Your Physician Marketing Endeavor
It is a fact that without a strong marketing plan, your marketing efforts will not yield the desired results. To stop you from falling into the same trap, we've put together a list of 10 proven tactics for taking your physician marketing to the next level.
1. Create A Fantastic Website
Your physician practice needs an online presence. You can have the most power over the patient experience here. Your website is the only place where prospects can find out more information about you. Patients are now aware of their health and, as a result, are placing a greater emphasis on getting to know, like, and trust a potential practice before going through the doors or making an appointment. Improving your patients' online experience will increase patient leads and retention dramatically. It is the perfect method to grow your Physician Contact List but remember that your website should have personalized features, a quick page load time, and be mobile-friendly and interactive.
2. Examine The Patient's Online Experience
Years ago, simply having a website was sufficient to wow potential patients and assist them in locating your healthcare brand. However, a website is now the new window for healthcare. It's the first thing patients see, and if it's not well-designed, it could also be the last time they hear about your hospital or healthcare procedures.
3. Use Pay-Per-Click And Display Ads
Paid adverts that display first for a set of search queries are known as pay-per-click advertising. Pay-per-click advertising allows you to control your budget and decide how much you're ready to spend to ensure your site appears on the first page of search results.
4. Leverage Social Media
Many healthcare offices and hospitals rely heavily on organic social media as part of their digital health marketing strategy. Posting images, updates, and events directly to Facebook, Twitter, and YouTube is a viable technique for building your brand as well as your lists of physicians and communicating with patients via organic social media.
5. Obtain Publication In Medical Journals
Medical journals give you the opportunity to showcase your expertise in a certain topic to the medical community. Medical publications are largely research-based and convey in-depth knowledge of a topic. To convey authority and knowledge, you can link to and post these articles on your social media networks, website, and bio. This not only helps you establish a positive reputation in the medical community but also inspires future patients to place their trust in your knowledge of the subject and subscribe to your email list of physicians for further Content.
6. Take Advantage Of Patient Reviews
The best fuel for your marketing efforts is a positive word from your existing patients and other providers. Use the feedback of your satisfied customers to attract new patients. Requesting reviews not only provide wonderful marketing content but also allows you to learn more about how your patients perceive you as a physician. It's a fantastic method for growing and strengthening your image as a brand. Patient testimonials function as a reflection of your medical practice. To develop a successful practice, embrace feedback.
7. Incorporate Doctor Referrals Into Your Marketing Strategies
How does your practice communicate with potential referring physicians? You're not receiving what you need unless you use a physician liaison. Too many medical offices and specialty groups rely on the front desk to contact doctors who might refer their practice–but the front desk simply does not have the time! Referrals from doctors are one of the most effective organic marketing tactics for attracting new patients. Every day, your physician liaison should visit hospitals, licensed caregivers, and medical practices, book lunches with possible referral sources, and maintain contact with them.
8. Become A Thought Leader In Your Specific Field Of Medicine
When you portray yourself as a professional in your field, prospective patients will remember you. When you have something to say, your PR (public relations) strategy should include contacting the proper media outlet–free its promotion for your healthcare brand!
9. Create Content As An Expert
Reviewing people's questions and addressing their pain spots is a terrific method to use content marketing. Blogs have proven to be the best method to accomplish this. Publish Content related to your practice and the services you provide. Such as,
What are the main problems of your patients?
What are some of the most frequently asked queries?
What methods do you use, and how do they benefit you?
Find relevant topics for your business as well as useful information for your patients. You can also discuss health industry advances, healthy living suggestions, or any other topic that your users might be interested in. Blogging is also an excellent technique to boost your SEO and appear higher in search results, resulting in expanding your mailing list of physicians.
10. Email Is Still A King
Email marketing keeps you in front of your patients and website visitors. Retargeting patients or reaching out to new patients who have expressed interest in a procedure or therapy is easy with email as part of your medical marketing plan. Create touchpoints with your practice and website visitors by using email marketing to deliver new promotions, specials, blog entries, and practice news. Encourage your visitors to sign up for a newsletter to expand your Contact List of Physicians. A newsletter will provide you the advantage of offering monthly material about your medical practice while also keeping your practice in front of people's minds. Creating nurturing sequences for your lead generation efforts is another effective approach to using email as part of your medical marketing strategy.

Wrap-Up
All of these methods are wonderful and effective on their own, but when applied together, they provide the best return on investment. Creating a marketing strategy is a never-ending process. You keep experimenting and testing to determine which message and platform get the best results. The more you investigate, the more you'll discover, and the more powerful your plan will become.