While healthcare has evolved, digitization may have been the most significant change. A new strategy for providing care, streamlining operations, and meeting customer desires for well-being is digital transformation. What does the healthcare sector's digital transformation have in store? It could change how operations are done, cut costs, and enhance patient care and services. The value chain of the healthcare sector is transitioning from relying on physical assets to relying on digital assets, and the impact will be larger than ever before. You should be aware that it may be difficult for healthcare professionals to stay up with the digital transformation.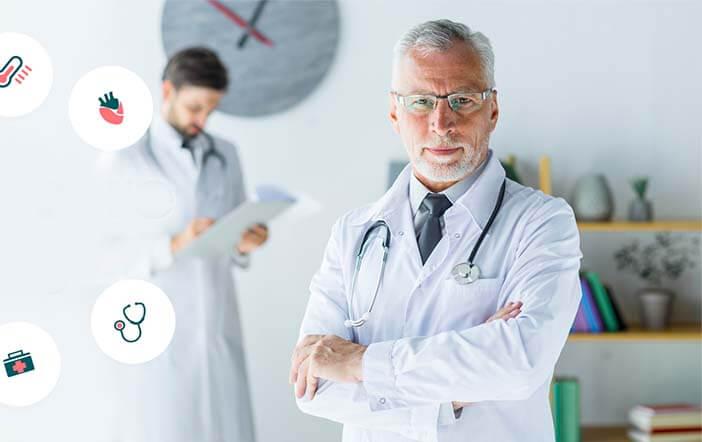 The internet has caused a transcending shift in how individuals interact with healthcare during the past few years. Massive changes are already evident in the healthcare industry, including the emergence of telemedicine, virtual reality, R&D, and even artificial intelligence. The Google Health AI is a prime example, which is being developed to remove obstacles between consumers and health information.
If you are engaged in the medical industry, this is the perfect time to increase your online presence and reach clients where they look first—online. Making a strong healthcare digital marketing plan is the greatest approach we've already researched for you. The best amongst all for engaging in Healthcare email marketing is through healthcare email list.
In this incredibly tactical guide, we'll outline and explain the most important marketing tactics, detail what works in online healthcare marketing, and direct you to the top healthcare digital marketing companies that can help you establish your brand.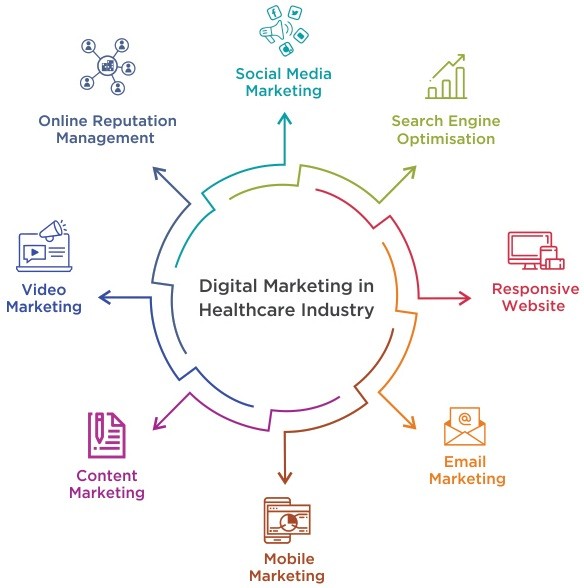 Source: Qltech
Here we will discuss insightful ideas on-
Diving deep into the healthcare ecosystem
Strategies for Digital Marketing in Healthcare
The Healthcare Landscape in 2022 and Beyond
Diving deep into the healthcare ecosystem
This extremely tactical guide will detail what works in online healthcare marketing. We'll also let you in the direction of the best healthcare digital marketing firms that can assist you in building your brand. The question might arise in your mind- what benefits can digital marketing offer the healthcare industry? Healthcare online marketing serves various purposes, including lead generation, product launches, conversions, community networking, engagement, education, and, most crucially, maximizing Return on Investment (ROI).
With digital medical marketing, who are you trying to reach? Interior and external clients are the two main customer groups that healthcare organizations aim to reach through digital healthcare marketing. Outside, patients seek care at a hospital but are not a part of the hospital ecosystem. Patients, their relatives, and larger public populations are included in this segment. The practice or hospital is positioned as the greatest choice for someone seeking care in the marketing for this market group. On the other side, interior clients are part of the medical ecosystem, such as physicians, hospitals, medical personnel, and other healthcare professionals. Marketing for this market focuses on controlling rivalry for individual practitioners and internal hospital brand promotion.
10 Strategies for Digital Marketing in Healthcare
Healthcare providers cannot fully take advantage of the lucrative digital healthcare advertising industry due to several obstacles, such as the difficulty of producing high-quality material promptly. We'll examine important healthcare digital marketing tactics in this part to help you overcome these obstacles. Here is a breakdown of the "content" you should be concentrating on:
1. Invest in video marketing first.
Videos are highly efficient for communicating with people in the community, educating patients and other hospital employees, and establishing trust with anyone looking for your services before they even interact with you in healthcare digital marketing. Investments in videos are worthwhile for technical factors as well! Marketing professionals believe that companies that employ video content typically rank higher in online searches than those that don't because search engines prefer to display videos at the top of their result pages whenever someone queries.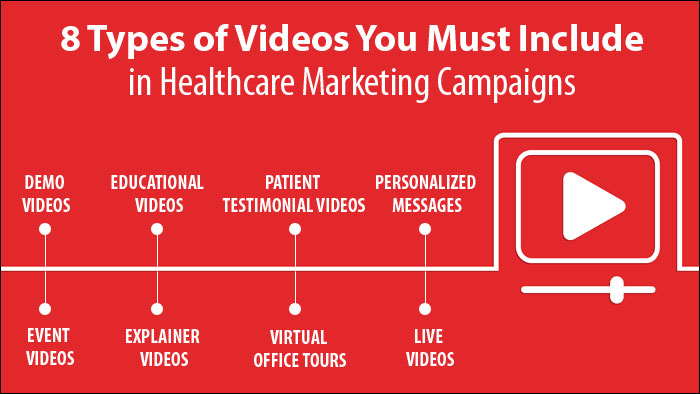 Source: Practicebuilders
2. Email marketing
The main advantage of email marketing in the healthcare industry is that patients can quickly obtain information. Calling them on the phone also doesn't bother or interrupt them. Given how many people use email, it is very helpful. Email marketing strategies can be advantageous for patients as well as healthcare providers. Patients receive emails with reminders for upcoming appointments and prescription refill notifications. Sending promotional messages and informative content becomes convenient through mailing lists. This is beneficial for updates on general healthcare.
3. Marketing on Social Media
Focus on social media if you're a healthcare business wanting to keep your marketing budget low but your impact large. Social media can help you interact and engage with your core audience without costing anything, regardless of whether you work for a large healthcare organization or a tiny healthcare brand trying to make a change. Choosing the appropriate social platform for your business is the most crucial step in social media marketing. This entails figuring out which social network your customers frequent the most. Currently, Facebook and Instagram are in the lead because advertisers claim that their marketing campaigns perform better on these two platforms.
4. Multichannel advertising
Healthcare marketing will become a more complex—and multichannel—game as patients gain more power. Do you know what a sales funnel is? Presenting the sales cyclone, a scenario in which buyer journeys are never predictable, and customer objectives are always changing. Prospects with questions can hop from a website to a whitepaper, Facebook, YouTube, schedule an appointment, and back again. Additionally, you must maintain a consistent tone and value proposition throughout. A comprehensive marketing strategy that incorporates both inbound and outbound tactics for healthcare marketing can help you stay ahead of the curve. Create a content arsenal that addresses every potential prospect's need next, from newsletters on "What to Expect at Your First Appointment" to articles on preliminary research.
5. The expansion of telehealth
It's more like an entire ocean than a wave. However, telehealth as a whole—which includes everything from remote doctor visits to EHR management—is a new medical reality firmly sewn into the fabric of the industry. Interest in telehealth appointments is expected to fluctuate with each new COVID version. Telehealth adoption is still experiencing a sharp rise as usage looks to have reached a post-pandemic level of 38 times more than in the days before COVID. And telehealth will undoubtedly continue to play a significant role in how practices conduct business in the digital age.
6. Protection of privacy
Every facet of the healthcare industry is governed by a complicated set of rules known as HIPAA. Compliance in healthcare marketing can be a big issue. To safeguard private health information, healthcare marketers are not allowed to use particular marketing strategies like remarketing advertisements. You must nevertheless strictly adhere to several significant industrial regulations, such as:
Act concerning the portability and accountability of health insurance (HIPAA)
Standards for electronic health records are set by the Centers for Medicare & Medicaid Services (CMS) (EHR)
The Health IT for Economic and Clinical Health Act (HITECH)
Ensure that all systems store and distribute patient and prospect information complies with these regulations. Also, remember that complete compliance may call for systems for frequent security audits and programs for data encryption.
7. Using a Modern Content Marketing Approach
Businesses are increasingly embracing content marketing. It is the modern online strategy for enhancing a brand's reputation and image. This is accomplished by presenting engaging, educational content. Content marketing is one of the most effective ways to advertise your business. That's because it enables you to establish trust with your audience. This should be current if you want to provide pertinent information. In addition to helping your business, you want the material to connect with the neighborhood you serve.
8. Optimizing for mobile
Driving traffic is a key component of any digital marketing plan. In the healthcare industry, it is crucial that patients can quickly access information, goods, and services. Organizations must ensure their websites are suited for mobile devices because many people use their cell phones to book appointments, use telehealth services, and learn about medical procedures.
9. Display Ads
Every internet user hates display advertisements. While you as the user may find them quite bothersome, marketers aiming to boost sales may find them incredibly effective. If you have something to share with your users, like the debut of a new e-prescription platform, apply this digital marketing strategy. While we're at it, did you know that in Denmark, the Netherlands, and Sweden, more than 70% of all doctors write prescriptions electronically? In any case, the point is that display advertising is an excellent method to spread information, so get started!
10. Retargeting
Retargeting is a solid marketing technique focusing on consumers who have already shown interest in your business, enabling you to increase client loyalty. The secret to successful retargeting is learning as much as possible about your users' past purchasing patterns and behavior. This information is crucial since it will enable you to develop a distinctive and customized marketing message that meets their present demands.

The Healthcare Landscape in 2022 and Beyond
Developing a solid healthcare digital marketing strategy necessitates nailing several aspects, including developing a great content strategy that prioritizes video, establishing a social media presence, spending money on targeted online advertising, and consistently releasing engaging communication. You must establish a strong online reputation and presence to win over long-term customers and make new contacts in the healthcare industry. Even while a satisfied patient base is a priceless marketing asset in and of itself, start building your social proof now by utilizing the various digital channels available to you.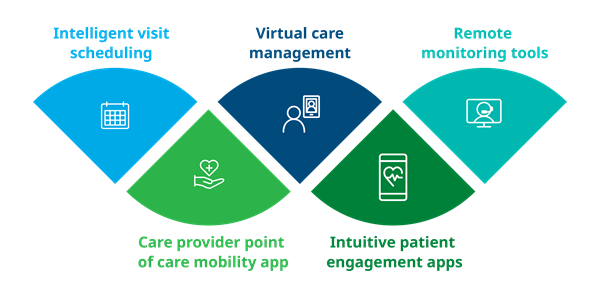 Source: Iqvia
The users will bring about the biggest transformation in healthcare in the future. Consumers are more aware of exorbitant premiums, pricey procedures, and consultations. Users are seeking less expensive but equally effective replacements for their current subscriptions. While providing customers with a portal to discover more about the inner workings of healthcare organizations, the internet also enables healthcare brands to digitize everything and offer a tool for their users. You should anticipate seeing revised regulations given the sensitive information exposed to the internet. The healthcare sector's cyber security and data storage practices will also be hot topics. In 2022, healthcare will see improvements that will benefit both consumers and corporations.